(video above from 2016)
Moving Moments, my original dance performance show, has been performed live in Copenhagen at Krudttønden, the 4. of july 2016, during the Copenhagen Jazzfestival.
During the Copenhagen Jazz Festival in 2015, in collaboration with Krudttønden, I succeded in realizing my big dream of creatinf a show that embraces the three sensous elements: light (the visual), movement (dance) and sound (the music). I've titled the show Moving Moments.
Movable and moving dynamics and energies in a composed and improvised expression that depends on the moment.
In this meeting between the dance and the music a togetherness is created that embraces and reflects Life and turns it into it a sensual experience.
The sensous energies are uttered in a room of the moment that is depending on the human expression and the ability to turn it into a collected experience.
The Moment takes off in stories and music by Christina Dahl.
Alexandre Bourdat has created the choreography for the performance.
Sensual, simple and airy. Wild, crazy and chaotic. It is a moment that is created in togetherness by the light, the dance and the music.
The cast consist of The dancers Anne Nyboe & Joel Fritzon, the lighting artist Martin Danielsen and the musicians Niclas Knudsen, Anders Filipsen, Jesper Lundgaard, Espen Laub von Lillienskjold & Christina Dahl.
It is a great joy that the venue Krudttønden has created the opportunity to realize the dream of this meeting.
The performance is supported by the Beckett Foundation, Dansk Kapelmesterforening and the collected Gramex funds.
Videos and photos are by Maria Sattrup og Joachim Høst (www.sattruphost.dk).
Sound recording by Kæv Gliemann.
I have a dream of developing the Moving Moments show so that it can be performed at more places and maybe for longer periods – cultural community houses, concert venues, theaters, institutions or business venues, to pass on a message about sharpening the senses, realize the energies between us, develop the communication and create more empathy, consciousness and understanding of human relations on the basis and acceptance of who we are.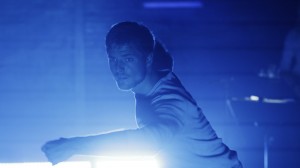 Photos and video by sattruphost.dk
(video above from 2015)