I am open for concert booking abroad either with my own group(s) or as a soloist with local bands.
I can be contacted at christinadahlmusic@gmail.com or Denise Thigpen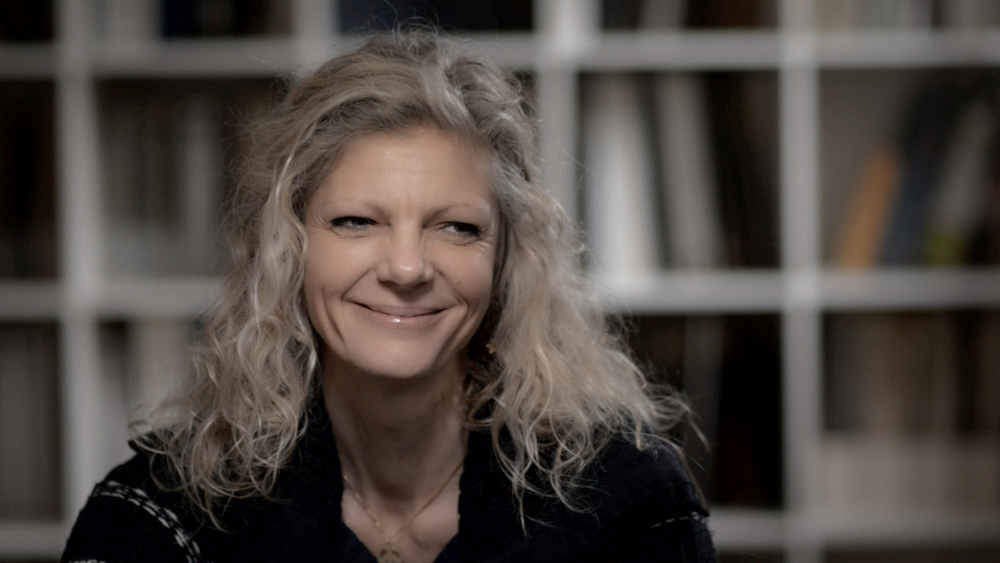 ---
ABOUT ME
To me music is love. Love is unconditional. I can choose to receive the music and let it flow through me like a wave of warm energy. I can express myself freely.
I can let myself be caught, taken by the music. I can consciously and unconsciously find an embrace of all my feelings in the music – joy, anger, sorrow, longing, fear and so much more.
My love for music began in my childhood.
At the local music school it was possible for me to share my joy of music with other children. It was through Mozart's Clarinet Concerto that I for the first time experienced The Musical Moment where everything comes together – a sense of eternity that was always there but now for the first time resonated within me and made sense in a deeply profound way.
Later in life I was lucky to experience that moment again. It was during a workshop with the American group Quest with among others Dave Liebman. It was a huge revelation for me. Through their music they opened the door to en endless room with all the colors of the world. They ignited a spark within me to follow my longings and love for music,
During my musicology studies at the University of Copenhagen and at the Conservatory of Rythmic Music I began to compose music for smaller and larger ensembles. During the 90ties I started composing for my own jazz quintet. I had my debut concert at the Jazzhouse Montmartre in the beginning of the 90ties.
It was during my studies that I made my first aquintence with the instrumentation of the classical music when I at the request of Erik Moseholm composed a work for the Danish Radio Concert Orchestra in 1994 where I was the soloist. I later had the opportunity to compose for the Athelas Ensemble, The Symphony Orchestra of Aalborg, big bands and various small ensembles and orchestras.
I participated in the workshop "The Third Way" with various classical composers as inspirators (Per Nørgaard, Hans Abrahamsen, Karsten Fundal among others) and I finished my two year studies of composition at the Conservatory of Rythmic Music where Bob Brookmeyer og Svend Hvidtfeldt Nielsen were my main teachers.
From 2003 to 2010 I have been composing and have released 2 cds as a leader with my 8-piece orchestra, Heartbeats. A big part of the music was composed and produced at the Kæv Studio.
During the years I also have composed music for my duo with Carsten Dahl. We have released two cds: "Lys på himlen" and "Det gyldne Landskab". Furthermore I have composed for the Dahl/Lundgaard/Riel/Dahl and Dahl/Danielsson/Mazur/Dahl quartets.
In the last five years I have been touring and composing with my trio which during the first few years consisted of myself, Jesper Lundgaard (b) og Morten Lund (dr). In 2010 we released our first cd on Storyville Records to critical acclaim.
My trio now consists of Jesper Lundgaard (b) and Espen Laub von Lillienskjold (dr). Lately Niclas Knudsen (g) has been joining us and has been adding new colors and dimensions to the music.
I am contantly searching for a greater freedom of expression and new challenges as a composer. It is important to me that the music I compose is creating a frame of freedom. My vision is to challenge and develop new expressions in my music as well as to create new musical sounds.
I'm searching for an expression that at he same time reflects and shows the personalities of the musicians plying it. I compose especially for the personalities of the musicians who I know will be playing my music.
My music is through-composed to start with but leaves room for interpretation. The harmonic freedom offers us an incredible opportunity to develop thematic structures while at the same time giving each voice a strong independant personal character while still ending in a common musical expression.
Here is a painting of me, done by the Danish painter Christian Hansen: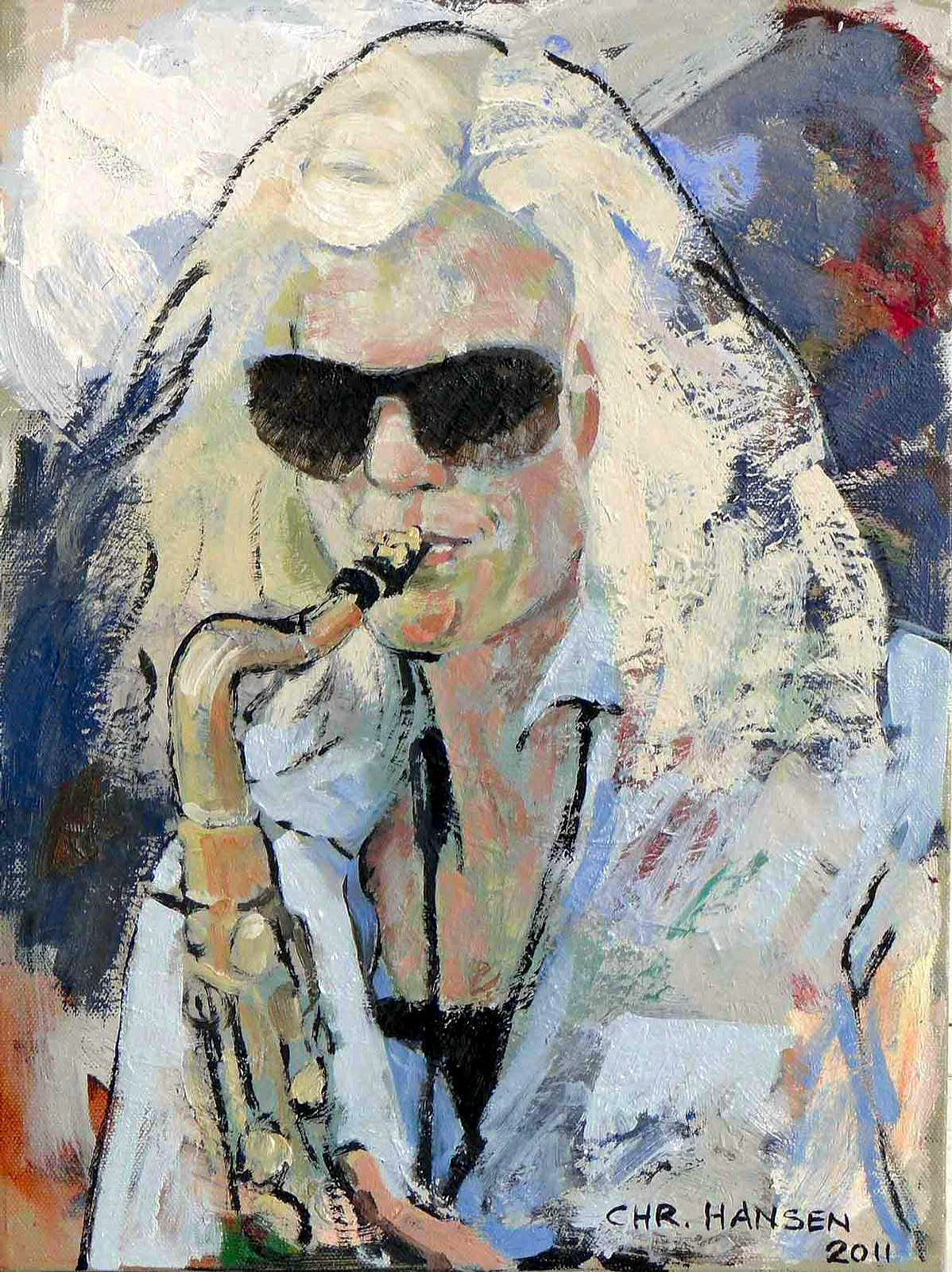 ---
CURRICULUM VITAE
EDUCATION
Institute of Musicology at the University of Copenhagen, 1988
The Sibilius Academy, Helsingfors, 1990
The Conservatory of Rythmic Music, 1992
Studies of composition at the The Conservatory og Rythmic Music, 1996 – 1998 with Bob Brookmeyer a.o.
MUSICAL ACTIVITY
Through the years I have among others played with:
Danmarks Radios Big Band, James Moody, Ed Neumeister, Dick Oats, Bob Brookmeyer, Jim McNeely, Deborah Brown, Bill Dobbins, Bob Mintzer, Tim Hagans, Niels Jørgen Steen's The A-Team, Klüvers Big Band, Ib Glindemann's Orchestra, Beibom/Krooner Big Band, The Orchestra/Beats & Big Band, Ann-Sofi Söderquist Quintet, Riel/Lundgaard/Dahl/Nielsen Quartet, Carsten Dahl/ Christina Dahl Duo, Marilyn Mazur/Lars Danielsson/CarstenDahl/Christina Nielsen Quartet, Sophisticated Ladies, Dahl Trio with Jesper Lundgaard and Morten Lund, Heartbeats/Christina Dahl Trio with Jesper Lundgaard & Espen Laub von Lillienskjold and Niclas Knudsen.
FESTIVALS
I have played larger jazz festivals. Among others:
Montreaux International Jazz Festival, Aberdeen Youth Festival, Keitele Jazz Festival, Stockholm Jazz Festival, Edinburgh Jazz Festival, Vancouver Festival m.fl. and have been travelling as a musician in among others the following countries: Norway, Sweden, Finland, The Pharao Islands, Iceland, Russia, Great BritanScotland, Germany, The Netherlands, Belgium, The Schwizz, Italy, Frankrig, Kina, Tyrkiet, Litauen, Tanzania & Canada.
ADDITIONAL ACTIVITY
As a soloist I have been performing with among others The Finnish Radio Orchestra, Tip Toe Big Band and The Danish Radio Concert Orchestra.
I have furthermore performed in plays with The Orchestra, dancers and actors in European Ran.
I have also played in theater orchestras at Amagerscenen, Folketeateret, Easy Living (Kafkafeen), Cirkusrevyen, Det Danske Teater, Det Ny Teater, Rossen og Rønnow, Folketeateret and Gladsaxe Teater.
COMPOSING
I have composed music for the Danish/Hungarian Musical Summit at The Danish Radio during the Copenhagen Jazz Festival and for The Danish Radio Concert Orchestra, The Jazzgruppe 90 and String Quartet, The Orchestra, Athelas Ensemble, The Symphony Orchestra, April Light Orchestra, Ann-Sofi Soderquist/Christina Nielsen Quintet, The Cornelius Trio, Christina Nielsen Quintet, Riel-Lundgaard-Dahl-Nielsen Quartet, Christina Nielsen Quartet with Marilyn Mazur, Lars Danielsson and Carsten Dahl, Det Gyldne Landskab, released on cd with Carsten Dahl, Heartbeats, Carsten & Christina Dahl Duo, My Trio with Jesper Lundgaard & Morten Lund and Christina Dahl trio with Jesper Lundgaard & Espen Laub von Lillienskjold featuring Niclas Knudsen.
AWARDS
The Walther Klæbel Memorial Award, 2012
DJBFAs Honorary Award 2011
The Bent Jædig Award 2010
The Ben Webster Award 1994
Second prize at the Europe International Jazz Contest i Belgium 1994 with The Christina Nielsen Quintet and the award for the best arrangemet of an original by a Belgian composer.
TEACHING
I have taught at:
Karlebo Musikskole, Farum Musikskole, Rytmisk Center, Sankt Annæ Gymnasium MGK, Slagelse Musikskole MGK, Køge Musikskole MGK, Ishøj Kulturskole & MGK, Halsnæs Kulturskole and various workshops and courses, Nordjysk Music Conservatory, Vestjysk Music Conservatory and at the Conservatory of Rhythmic Music in Denmark.
DISCOGRAPHY
The Orchestra: "Not as Softly",1993
The Orchestra: "Smoke Out", 1996
The Orchestra: "Noxx", 1998
The Orcheatra: "New Skies", 2001
The Orchestra: "Beats & Big Band, 2003
Sophisticated Ladies: "To you"
Sophisticated Ladies: "Strange party"
Sophisticated Ladies & Christina Dahl: "S.L. Plays Ellington"
Sophisticated Ladies & Christina Dahl: "In Spirit" 2012
Henriette Clemens, Henrik Metz & Christina Dahl
Christina Nielsen: "From this Time Forward", 1995
Christina Nielsen: "A Touch of Happiness", 1999
Ann-Sofi Söderquist/Christina Nielsen: "Heartflower", 1998
Carsten Dahl og Christina Nielsen: "Lys på Himlen", 2000
Carsten Dahl & Christina Dahl: "Det Gyldne Landskab"
Christina Dahl: "Heartbeats", 2003
Christina Dahl Heartbeats: "Free your Mind", 2006
Christina Dahl: "Now is Now", 2010
Christina Dahl: "Life's Carousel", 2014
Christina Dahl: "Childish", 2017
Christina Dahl: "Quintesse", 2019
---
CHRISTINA DAHL QUARTET
My quartet consist of the guitarist Niclas Knudsen who with his enormous musical personality plays with abandon and a freely expressed lyricism, Jesper Lundgaard who is internationally renowned for his virtuoso bass playing and Espen Laub von Lilienskjold who is a superbly talented drummer who adds dynamicism and a dedicated energy to the music.
Christina Dahl is one of the most respected Danish saxophone players. She is a band leader and composes music for small and large ensembles. She has performed in countless constellations and is known by her unique soul-tingled sound and her lyrical interpretations that go straight to the heart.
Her playing varies from the most intimate and understated to the the explosive.
Jesper Lundgaard is one of the most respected Danish bass players in Denmark and abroad. He has toured all over the world with virtually all the big names in jazz – among others with Michel Petrucciani, John Scofield, Thad Jones, Benny Carter, Ed Thigpen, Tommy Flanagan, Dexter Gordon and Svend Asmussen. He has played on more than 500 records – of which he has been a producer of 50.
Espen Laub von Lilienskjold on drums is one of the most talented musicians in Denmark at the present. His playfulness and special way of complementing the totality of the music helps to create a totally unique expression. His playing is refined, dynamic and always extremely musical.
Niclas Knudsen is without any doubt one of the best guitarists in Denmark. He plays within several genres and has a fantastic capacity for melodic expression and a unique and varied way of coloring his sound. Apart from working with his own projects, like Ibrahim Electric etc, he has, among others, played with Adam Nussbaum, Tom Jones, John Tchicai, Dave Liebman, Ray Anderson and Billy Preston.
Every musician within the quartet has the role of being a lead soloist in a united playful free musical communication with great personal originality. The quartet plays with a freedom and dynacism that results in music of a playful and airy quality. The repertoire consist of original compositions by Christina Dahl. Within these compositions lie stories that have symbolic meaning compared to life and it's richness of all colors.
Her latest CD is from 2014, entitled Life's Carousel. It is the 8th cd with Christina Dahl as a leader. Jesper Lundgaard has received the Danish award Bent Jædigs Hæderspris in 2010. Christina Dahl received the same in 2010. She has also received an award from the Composer's Union DJBFA in 2011 and the award Walther Klæbels Mindelegat in 2012.
Lately the quartet har played a number of exclusive concerts in Denmark, Sweden and Norway. Their music har been received with an overwhelmingly positive feedback: Henrik Jöhnemark from Jazz i Malmø writes on Facebook: "Thanks for a fantastical concert!". Pjotr Egholm from Giant Steps writes: Great concert! The best concert I've been to in a long time!".
Kjeld Lauritsen writes: "Wonderful concert with Christina Dahl and her orchestra. Extremely jazzy, even the "free" compositions showed all the signs of a long life lived with the experience of this mode of expression".
Bengt Asplund from Floda: "Thank you so much for the incredible music in Floda yesterday evening. What a lovely tone and technique and what flow and great band playing. The best I've heard in a long while – maybe the best I've ever heard?".
Svend Bjerstedt in Kristianstadsbladet: "Beautiful and pleasant. This is jazz that never succumbs to being showy, based on the old and tried standard repertoire, or a swing party or full of cliché filled gestures! Here stories are told of personal involvment, new stories with considerable spirituality and sensuousness and with a great openess to lyrical changes of mood. It's beautiful and well played together. The music captures you with its seriouness and empathy. The playing together is very alert, the arrangments rich and the solos spiky. Dahl has a mature full blown tone in her tenor sax and a real authority in the whole register. Niclas Knudsen is a very sound-conscious electric guitar player, Jesper Lundgaard is phenomal at making the contra bass sing with a clean, sonorous tones. The drummer Espen Laub von Lillienskjold excells at quiet brush cascades".
---
DAHL TOLDAM TRIO
Simon Toldam, pia/keys, Peter Bruun, drums/perc & Christina Dahl, saxophone/composition.
In this musical meeting, a unique expression is created in harmony by three dynamic and creative musicians.
Dahl Toldam Bruun Trio contains three artists, each one with great personality, who together creates an original universe of compositional music and improvisation. The trio is not afraid of experimenting with the musical expression and to seek out the nooks and crannies of the musical landscape.
The music has a spectrum of sound facets and expresses itself from the simple lyrical to the more complex layers of musical lines and puls. The trio thrives in its span and adventurous stories are told and put to life in this musical toneunivers that is intuitively conveyed and ranges from deep, inner peace to chaos and wildness – clear, beautiful moments to smoldering, intens and whimsical colors of foggy tonelanguage.
The music is composed by Christina and is created from inner pictures and storylines. The music is portrayed by the trio in a mutual, organic, musical image that reflects the eternal dynamics and changeability of the human and life.
The trio is set to record their first release together in december 2020, which will be released in 2021.
---
MY LATEST CD: QUINTESSE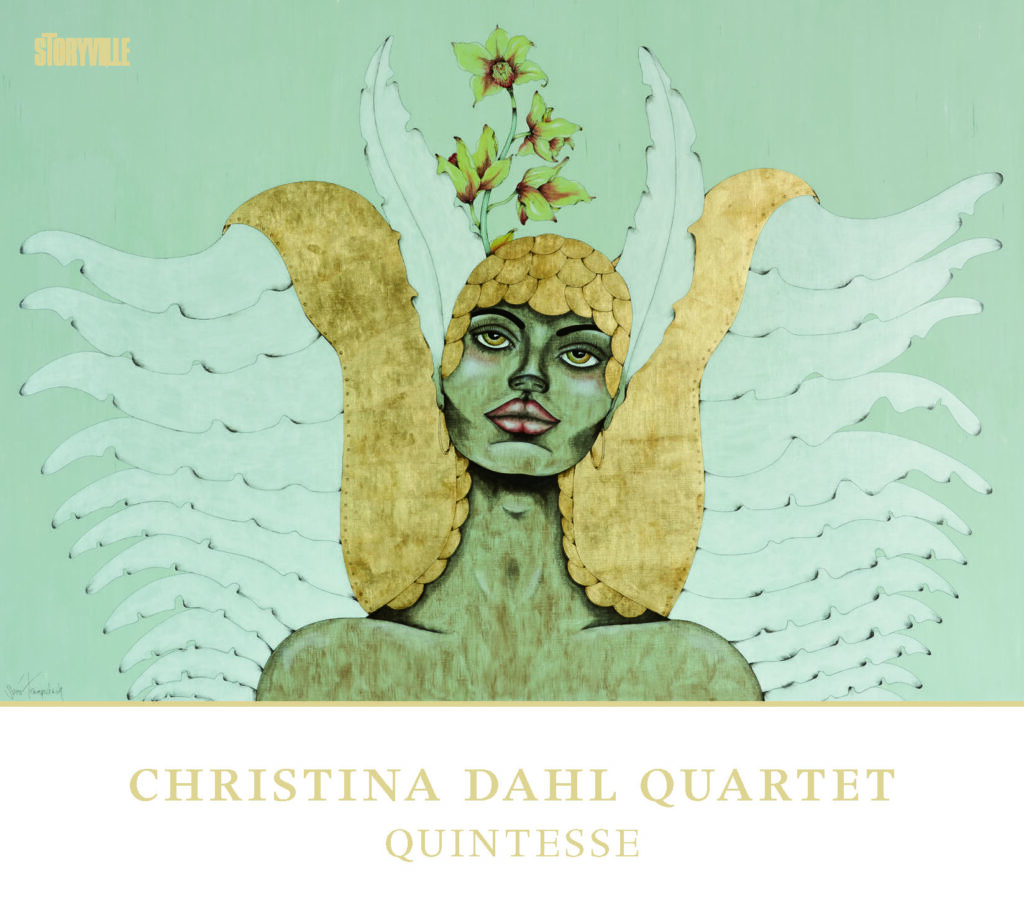 Christina Dahl is one of Denmark's most respected saxophonists and she has a personal and lyrical sound. As a musician her expressions range from explosive virility to dimmed melancholy.

On her new album she brings the unique quartet consisting of one of our very best guitarists, Niclas Knudsen, the internationally acclaimed bassist Jesper Lundgaard and a great talent on the drums, Esben Laub von Lillienskjold.

Together, the four musicians have developed a playful and free language, where everyone has a leading role as soloists. This can be heard on seven compositions all written by Dahl. We meet a broad spectrum of musical temperaments. The language is free, but with a heightened sense of melody and a strong Nordic expression. Enjoy Scandinavian jazz with soul, depth and intensity.
Here are some of the reviews of Quintesse:
Ivan Rod is a journalist, reviewer, author and editor:
https://www.ivanrod.dk/2019/06/28/christina-dahl-quartet-quintesse/
It's been 5 years since we have last heard from Christina Dahl Quartet. When the bandleader released Life's Carousel in 2014 her quartet, apart from herself, consisted of guitarist Niclas Knudsen, bassist Jesper Lundgaard and drummer Espen Laub von Lillienskjold. In her current quartet Jesper Lundgaard has been replaced by Nils Bosse Davidsen. The remaining members are still the same. But what about the music? It has become more expressive, energetic and explosive. More electrified. Unpredictable, in fact. Not only because of the participation of Nils Bosse Davidsen, but also because of him! And the energy? It most generally fits the music, which on Quintesse lies somewhere between expressive instrumental jazz, and the psychedelic electric guitar and saxophone based rock.
The music – which is written all by Christina Dahl – is dynamic, multifaceted, sensuous, but still lyrical and light. Christina Dahl's own contribution is both heartfelt and warm. The remaining three members contributions are well-trimmed and well-proportioned. Therefore, Quintesse is at this point one of the saxophonist's best albums. (translated from Danish)
________________________________________
This review is by Jan Granlie:
( https://salt-peanuts.eu/record/christina-dahl-quartet/?fbclid=IwAR0yVX-JKEwqYTwVr8G VUZK1dz0K1gN-SEd6mDp838l4tFlfiH4-7C64q7s )
CHRISTINA DAHL QUARTET
«Quintesse» STORYVILLE 101 4327
The Danish saxophonist Christina Dahl has since her debut album, "From this time forward", from 1995, been an artist who played at the local jazz clubs in Denmark and in that way gained her audiences support throughout the years. She has released more than 10 albums since her debut, not only in her name, but also together with Sophisticated Ladies and her ex husband Carsten Dahl. On her newest album she is working with her current quartet consisting of guitarist Niclas Knudsen, known for Ibrahim Electric, bassist and cello player Nils Bosse Davidsen, who plays with all the modernists of Denmark, and drummer Espen Laub von Lillienskjold.
In Quintesse we get eight compositions all made by Dahl and even from the first note where guitarist Niclas Knudsen plays long notes with a strong blues feeling, I feel Christina Dahl is one her way to a whole new musical landscape. It seems like she really enjoys this musical collaboration with the three other members. It feels as though all the musicians are
comfortable with each other and ideas can flow freely between the musicians. The music has gotten a more modern tune especially because of Niclas Knudsen guitar sound and Davidsen's electrical bass and cello. This takes the music to a new level.
Most of the compositions are in a ballad or mid-tempo and Christina Dahl plays the saxophone in a muted and nice way. An example of this is the lovely "Stepless Steps" which is a composition that could go right into ECM productions, where the interaction between Dahl and Davidsen's cello is magical.
The following "Breathless Octavia", together with "Signs and signals" and the seventh track on the album "Slowly slide" are the albums most modern and experimental compositions where the band takes a new direction into a more free musical landscape and this really complements the Quartet. And at last the lovely "The Scream in the Shrine" where once again the communication between Dahl and Knudsen is excellent, which is why this one of the best songs of the album that a lot of ECM musicians would envy.
This is a song that might as well could have been done by Bill Frisell, because of Knudsen's minimalistic and fine guitar playing, but with Dahl's saxophone at the top and von Lillenskjold and Davidsen's in background this is still something very unique. There is a feel of ECM about most of the music they serve on the disc. Perhaps it is because of the talented musicians Dahl surrounds herself with, and her own playing is all the way tasteful and delicious to listen to. There is never a tone too small or too much. The entire production shows four musicians who understand each other and who have a similar goal for where they want to go with the music.
________________________________________
Here is a review by by George W. Harris from Jazz Weekly:

Soft toned and breathy tenor saxist Christina Dahl creates Givenchy impressions with her team of Niclas Knudsen/g, Nils Bosse Davidsen/cel-eb and Espen Laub von Lillienskjold/dr-perc.
The eight tunes are soft and brooding themes, with sighing sax and brooding bows on pieces such as "Invisible Whispering" the chamber'd "Clarity" and the Bartokian "Slowly Slide." Daviden's electric bass line adds texture to the soft "Quintesse" and cadences with Lillienskjold's military taps on "Breathless Octavia" with a gorgeous canter for "Signs and Signals." More wisps and fog than The Hound of the Baskervilles."
---
MOVING MOMENTS
Moving Moments, my original dance performance show, will be performed live in Copenhagen at Krudttønden, the 4. of july 2016, during the Copenhagen Jazzfestival.
During the Copenhagen Jazz Festival in 2015, in collaboration with Krudttønden, I succeded in realizing my big dream of creatinf a show that embraces the three sensous elements: light (the visual), movement (dance) and sound (the music). I've titled the show Moving Moments.
Movable and moving dynamics and energies in a composed and improvised expression that depends on the moment.
In this meeting between the dance and the music a togetherness is created that embraces and reflects Life and turns it into it a sensual experience.
The sensous energies are uttered in a room of the moment that is depending on the human expression and the ability to turn it into a collected experience.
The Moment takes off in stories and music by Christina Dahl.
Alexandre Bourdat has created the choreography for the performance.
Sensual, simple and airy. Wild, crazy and chaotic. It is a moment that is created in togetherness by the light, the dance and the music.
The cast consist of The dancers Anne Nyboe & Joel Fritzon, the lighting artist Martin Danielsen and the musicians Niclas Knudsen, Anders Filipsen, Jesper Lundgaard, Espen Laub von Lillienskjold & Christina Dahl.
It is a great joy that the venue Krudttønden has created the opportunity to realize the dream of this meeting.
The performance is supported by the Beckett Foundation, Dansk Kapelmesterforening and the collected Gramex funds.
Videos and photos are by Maria Sattrup og Joachim Høst (www.sattruphost.dk).
Sound recording by Kæv Gliemann.
I have a dream of developing the Moving Moments show so that it can be performed at more places and maybe for longer periods – cultural community houses, concert venues, theaters, institutions or business venues, to pass on a message about sharpening the senses, realize the energies between us, develop the communication and create more empathy, consciousness and understanding of human relations on the basis and acceptance of who we are.