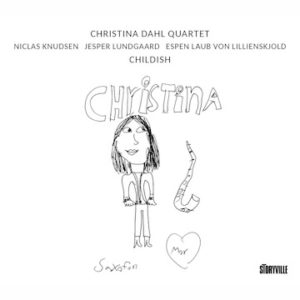 Christina Dahl is one of Denmark's most respected saxophonists and she has a personal and lyrical sound. As a musician her expressions range from explosive virility to dimmed melancholy.
On her new album she brings the unique quartet consisting of one of our very best guitarists, Niclas Knudsen, the internationally acclaimed bassist Jesper Lundgaard and a great talent on the drums, Esben Laub von Lillienskjold.
Together, the four musicians have developed a playful and free language, where everyone has a leading role as soloists. This can be heard on seven compositions all written by Dahl. We meet a broad spectrum of musical temperaments. The language is free, but with a heightened sense of melody and a strong Nordic expression. Enjoy Scandinavian jazz with soul, depth and intensity.